Full-scale MTB field
Enjoy the superb view from an altitude of 2,000m
"Palcall Tsumagoi MTB Field" is finally born, where you can enjoy MTB downhill while looking at the best scenery in Honshu.
If you take the longest gondola in the Kanto region at 3,193m and climb to the top of the mountain at an altitude of 2,050m, you will be able to see a landscape that is far from Japan and a field where the cool breeze blows even in the middle of summer.
Based on the concept of "a mountain resort that casts a lot of magic that makes life more exciting and richer", this is the first challenge to the MTB field representing Asia, which is divided into 3 phases. This year, we will start off with a soft start centered on a long downhill course with a total length of 5.5km.
Operation period
July 23, 2022 - October 31, 2022
Every Saturday, Sunday and Monday during the period
Friday, September 23, 2022
Operation Hours
7:30-15:30
MTB last boarding 15:00
Fee (tax included)
Please purchase your ticket at the center house.
[MTB 1-day ticket] Adults 4,000 yen Elementary school students 3,000 yen
[MTB 1-time ticket] 2,000 yen
Summer business is closed. Thank you for your understanding.
Customers who have a "MTB 1-day pass" can use "Azama no Yu" in the resort center free of charge only on the day.
MTB field usage guide
Gondolas are free for preschoolers. Children under the age of 6 must be accompanied by an adult at all times.
Business hours may change suddenly due to weather conditions.
The summit is more than 2,000m above sea level, and there are sudden weather changes. Please be careful as the temperature differs greatly depending on the season.
The course from the top of the gondola is a long course and passes through some scree fields. Inexperienced MTB riders must be accompanied by an experienced rider.
The gondola summit toilet is out of order, so please use the toilet in the center house.
When purchasing a MTB ticket, you will need to sign the course use pledge.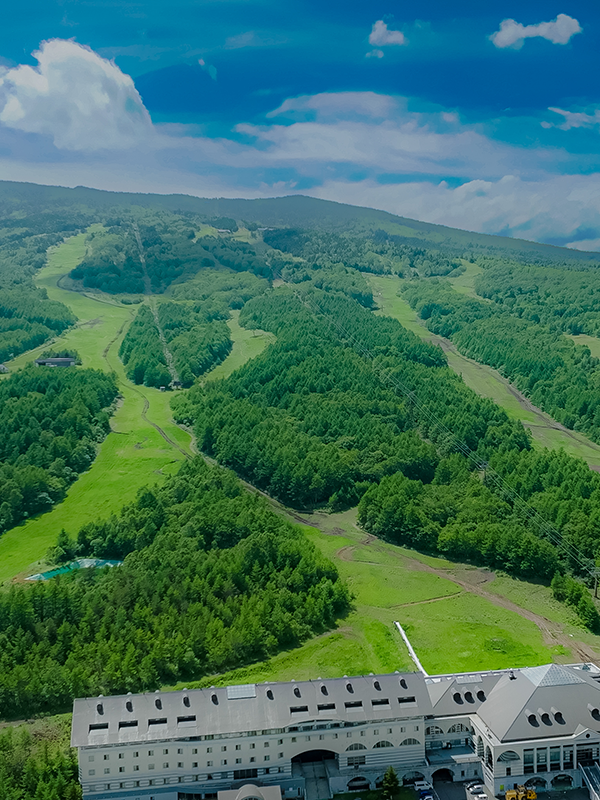 Always stay in control of your MTB and ride to avoid people and obstacles.
Vehicles in front have priority and should be avoided when driving or passing people.
Stay on the course and do not block other riders or stop where you cannot be seen from behind.
When entering the course, merging, or starting to ride, check your surroundings and do not disturb other riders.
Use a MTB that is properly adjusted and has proper brakes and other functions. Always wear a bicycle helmet.
Do not ride on any course other than the course where you are allowed to ride. Don't shortcut the course.
Observe and follow caution and warning signs. Stay away from man-made structures, standing trees, and work vehicles.
Do not use the course or the gondola lift if you are physically impaired due to alcohol, drugs, or poor physical condition.
Have the knowledge and skills to safely get on and off the gondola lift before using it. If you don't understand something, ask the staff.
If you witness an incident that requires a patrol in the park, move the casualty and MTB to a safe location and report the patrol by mobile.
Always carry your mobile phone on the field.
For those who cannot stand riding on a bicycle, small children, and those who have no MTB experience, please use the free cross-country course first, and then use the gondola course after improving your skills.